Like credit unions, our association operates on the philosophy of service and mutual cooperation; it's at the core of everything we do, from lobbying efforts to education and training initiatives, from business planning services to high-quality, fairly-priced products and services.
This philosophy is what sparked HRx.
Placement Services:
Our placement services are designed to specifically meet the needs of credit unions in recruiting employees and executives.
PEO Services:
Through our Professional Employer Organization partner, outsourced human resource services are available, allowing CEOs and managers to focus on their core business activities. This is a great solution for small credit unions that lack a full-time HR person on site.
Employment Screening Services:
Employment screening services include both personality-based hiring tools and background checking services, helping you make sound employment decisions, decreasing unwanted turnover, and saving you time and money.
Salary Administration:
Our salary administration program uses research and competitive analysis to give credit unions the most current and complete data to determine appropriate salary. This Windows-based tool, complete with the capability to develop appropriate job descriptions, puts you in control of your compensation planning.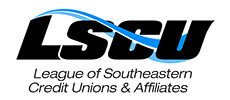 Representing 278 credit unions with $65 billion in assets and 6.6 million members, the League of Southeastern Credit Unions & Affiliates (LSCU) is the trade association for Alabama and Florida credit unions.
LSCU was formed in 2009 by the consolidation of the Alabama Credit Union League and Florida Credit Union League and provides advocacy, compliance support, education, training, and information with relevant services and business strategies to support its members in
fulfilling their mission.

The LSCU Service Corporation, doing business as LEVERAGE, is the business services subsidiary of the League of Southeastern Credit Unions. LEVERAGE was formed in 2010 from a consolidation of the Alabama and Florida Service Corporations, both doing business with
credit unions for more than 40 years.
With offices located in Birmingham, Alabama, and Tallahassee, Florida, LEVERAGE works to offer credit unions best-in-class products and services through preferred business partner relationships. We focus on:
• Leveraging buying power to reduce costs
• Leveraging resources to maximize financial results
• Leveraging industry knowledge and research to provide
access to best-in-class solutions
• Leveraging relationships to connect innovative credit union service providers with credit union executives
LEVERAGE exists to serve credit unions and is dedicated to the success of credit unions and the credit union industry.

Landrum Professional offers payroll, benefits, and human resources outsourcing, and counts many credit unions among its clients. A full-service PEO, Landrum has clients in 38 states and offers a dedicated HR Manager, Benefits Consultant, and Payroll Professional to each organization
it serves.
Hire the right person the first time. The Omnia® Profile is a behavior-based employee assessment tool. The profile describes preferred behaviors and predicts potential candidate and employee job compatibility.
Recruit and retain top management talent through affordable retirement plans, including 401(k) Plans and Customizable Executive Benefit Plans.
At Credit Union Resources our goal is to be the leading provider of business solutions for the credit union community. We are a wholly owned subsidiary of Cornerstone Credit Union League and are proud to serve as the service corporation for Cornerstone's member credit unions.
Our motto says it all...Your Business, Our Focus, Expert Solutions. Whether you are looking for an effective advertising campaign, sales materials, new lending products, technology solutions, auditing services, a hands-on compliance partner, strategic planning assistance, a shared branching presence, or staffing and operational support; we have what you need, at a price you can afford.
Your success is our success. We have the credit union knowledge and experience that assists you in gaining the right service for your operation and membership. Simply put...we have the resources your credit union can count on.
There are no current openings.
HR Consulting Manager for HRx
Leia White is the HR Consulting Manager for HRx. She came to the LSCU & Affiliates after working as the
HR Manager for Management & Training Corporation. While at MTC, she recruited approximately 100 employees,
and was tasked with all HR functions for a staff of 250.
She's also worked as an HR Generalist for Fortis Environmental Group and as a Contract Accountant for WRS Compass.
Leia's undergraduate degree, from Florida State University (FSU), is in International Affairs, and she holds a master's degree in
Public Administration from American Military University. She is certified as a Professional in Human Resources (PHR)
and is a SHRM Certified Professional (SHRM-CP).